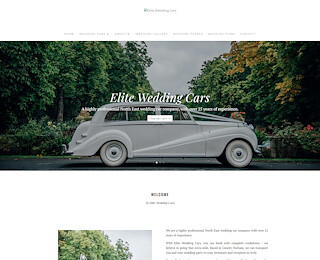 Hiring a wedding car for your big day is one of the most important preparations. You need to ensure the car company you hire are reliable - you don't want to miss your wedding stuck on the motorway ! Wedding cars are available for all types of weddings - depending on the brides preference. You can book vintage bridal carriages - or the more practical wedding car to get your large dress in ! Wedding car hire north east can help you create the perfect package to get yourself and your bridesmaids to the church on time, in an elegant manner - and make sure the groom and the best man gets there too. Following your wedding ceremony, our dedicated chauffeurs will collect you and your close wedding party (mother of the bride, father of the bride, bridesmaids) etc and take them off to the wedding breakfast, while yourself and your newly married husband is whisked off for a few moments of reflection - before being dropped off to welcome your party guests.
Elite Wedding car hire north east uk will make sure the transport for your day is perfect. Our chauffeurs are trained to be very attentive, ensuring you have no worries though out your wedding day - but they will remain in the background - giving you their full attention. They are suited for the occasion and will present you both with a complementary bottle of champagne to help you start the celebrations.
Based in the North East of the uK, Elite wedding cars serves brides all across county Durham, Sunderland, Chester le Street and as far north as Newcastle and south as Darlington. Call for the best price and service of wedding cars in the North East.  We can tailor all packages to your requirements - even if you have a civil service wedding in the hotel followed by the wedding reception at the same hotel, we can arrange for our chauffeurs to collect you from your home, take you to the hotel, and after the ceremony - whisk the bride and groom off for a romantic drive.
Wedding Car Hire North East
We welcome your comments!